Deadweight tonnage (also known as deadweight; abbreviated to DWT, D.W.T., d.w.t., or dwt) or tons deadweight (TDW) is a measure of how much weight a ship can carry,[1][2][3] not its weight, empty or in any degree of load. DWT is the sum of the weights of cargo, fuel, fresh water, ballast water, provisions, passengers, and crew.[1]  https://en.wikipedia.org/wiki/Deadweight_tonnage
Cargo ships or vessels come in different types and sizes to meet the various demands of marine cargo transportation. Cargo ships  are categorised partly by capacity and partly by dimensions (often related to the different canals and canal locks they are traveling through). Sizes of cargo vessels range from a modest handysize carriers(10,000 - 30,000 DWT) to mammoth VLCC and ULCC super tankers with a capacity to carry cargoes of more than 200,000 DWT. Aframax and Panamax are mid-sized cargo vessels.
Aframax
AFRA stands for Average Freight Rate Assessment. As the name suggests, Aframax are medium-sized oil tankers with a dead weight tonnage (DWT) between 80,000 and 119,999. Though relatively small in size in comparison to VLCC and ULCC, Aframax tankers have a capacity to carry up to 120,000 metric tonnes of crude oil. They are just ideal for short to medium-haul oil trades, and are primarily used in regions of lower crude production, or the areas that lack large ports to accommodate giant oil carriers.
Their weight ranges from 70,000 to 120,000 dead weight tons, with a capacity of 750,000 barrels of oil. In the Average Freight Rate Assessment tanker system (AFRA), they are the largest tankers. AFRA is a standard used for contract terms with well-defined ship capacity
Capesize
They are very large and ultra large cargo vessels with a capacity over 150,000 DWT. They are categorised under VLCC, ULCC, VLOC and ULOC  and can be as large as 400,000 DWT or even more. They serve regions with largest deepwater terminals in the world and are primarily used for transporting coal and iron ore. Because of their giant size, they are suitable to serve only a small number of ports with deepwater terminals.
Chinamax
Chinamax ships are very large bulk carrier which can't be longer than 360m (1,180 ft), wider than 65 m (213 ft) and her draft can't be more than 24 m (79 ft). The deadweight tonnage of these vessels is 380,000–400,000 DWT.
Ship's maximum measurements are defined by the Chinamax standars, allowing ports to determine whether they can accommodate ships in this class. As the name suggests, these ships are often used to move cargo to and from China along several trade routes, such as the iron ore route from Brazil to China.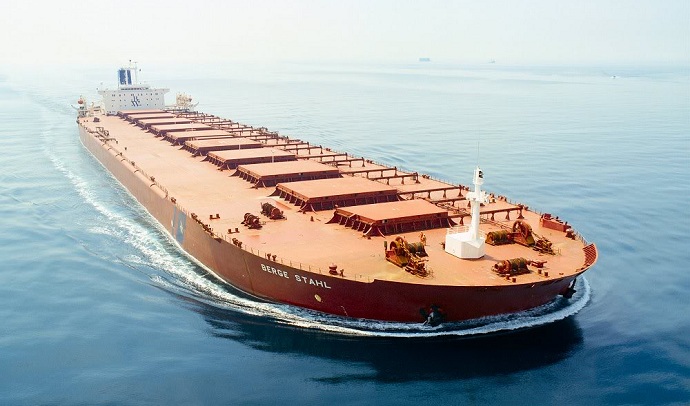 Handymax/ Supramax
Handymax are small-sized cargo ships with a size less than 60,000 DWT. Supramax vessels have capacity between 50,000 to 60,000 DWT. Due to their small size, they are capable of operating in regions with small ports with length and draught restrictions. They form the majority of ocean going cargo vessels in the world.
Handysize
Handysize are small-sized ships with a capacity ranging between 15,000 and 35,000 DWT. These vessels are ideal for small as well as large ports, and so make up the majority of ocean cargo vessels in the world. They are mainly used in transporting finished petroleum products and for bulk cargo.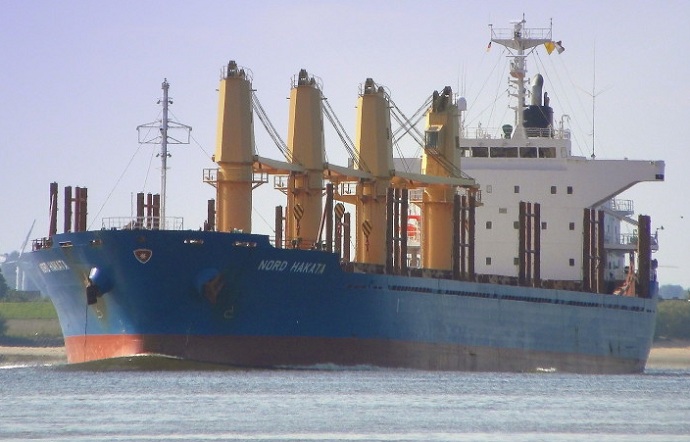 Malaccamax
As the name suggests, Malaccamax ships are the largest ships that can pass through the Strait off Malacca which is 25 m (82 ft) deep. As per the current permissible limits, a Malaccamax vessel can have a maximum length of 400 m (1,312ft), beam of 59 m (193.5 ft), and draught of 14.5 m (47.5 ft).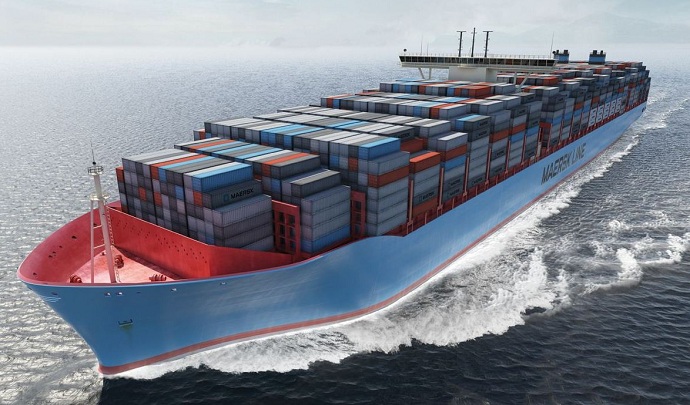 Panamax and New Panamax
With an oil tanker size of 500,000 barrels, these tankers sure command a measure of respect in this industry. They are regarded as the largest vessel that travels through the Panama Canal.
A crude oil tanker of this sort weighs up to 70,000 dead weight tons (a crude oil tanker is one of the two types of oil tankers that move raw unrefined oil from where it is pumped out of the earth to where they will be refined).
As the name suggests, Panamax and New Panamax ships are travelling through the Panama Canal. They strictly follow the size regulations set by the Panama Canal Authority, as the entry and exit points of the Canal are narrow. A Panamax vessel can't be longer than 294,13 m (965 ft), wider than 32,31 m (106 ft) and her draught can't be more than 12,04 m (39.5 ft). These vessels have an average capacity of 65,000 DWT, and are primarily used in transporting coal, crude oil and petroleum products. They operate in the Caribbean and Latin American regions.
The New Panamax has been created as a result of the expanding plans for Panama Canal locks. Expanded locks will be around 427 m (1400 ft) long, 55 m (180 ft)  wide and 18,30 m (60 ft) deep so Panama Canal will be able to handle larger vessels .
Q-Max (Qatar-max)
Q-Max's are largest LNG carriers that can dock at the LNG terminals in Qatar.
Q-Max ship is 345 metres (1,132 ft) long, 53.8 metres (177 ft) wide and 34.7 metres (114 ft) high, with a draught of approximately 12 metres (39 ft). It has a capacity of 266,000 cubic metres (9,400,000 cu ft), equal to 161,994,000 cubic metres (5.7208×109 cu ft) of natural gas.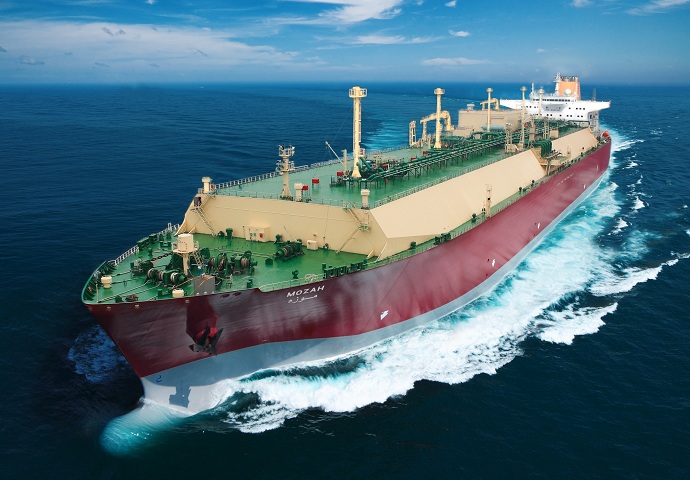 Seawaymax
As the name suggests, Seawaymax ships are the largest ships that can pass through the locks of St. Lawrence Seaway.
These ships are 225,6 m (740 ft) long, 23,8 m (78 ft) wide and 35,5 m (116 ft) high, with a draught of 7,92 metres (26 ft).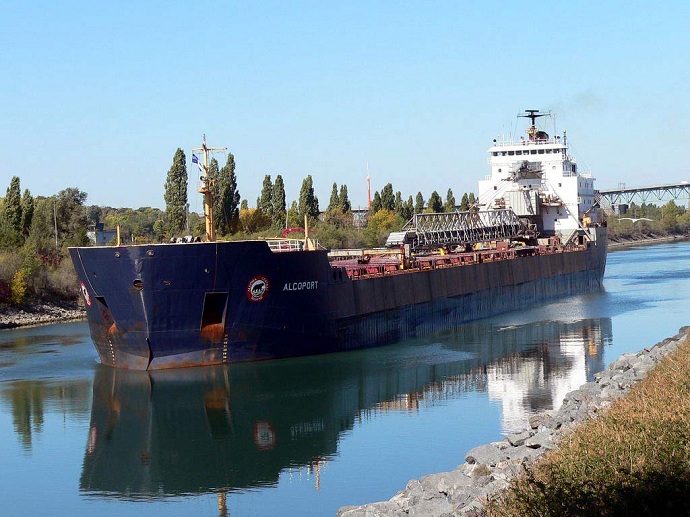 Suezmax
Suezmax are named after the famous Suez Canal. They are mid-sized cargo vessels with a capacity ranging between 120,000 to 200,000 DWT. They are designed to pass through the majority of the ports in the world. Currently the permissible limits for suezmax ships are 20.1 m (66 ft) of draught with the beam no wider than 50 m (164.0 ft), or 12.2 m (40 ft) of draught with maximum allowed beam of 77.5 m (254 ft).
VLCC and ULCC
Very large crude carrier (VLCC)
Their weight extends from 200,000 to 325,000 dead weight tons; used mainly in the Mediterranean Sea, the North Sea, and near West Africa, with an approximate capacity of 2,000,000 barrels of oil.
Ultra large crude carrier (ULCC)
It is also known as ULCC. The weight extends from 325,000 to 550,000 dead weight tons. Their capacity is up to 4,000,000 barrels of oil and they are used in the Persian Gulf to European and American to Asia.
VLCC stands for Very Large Crude Carriers. They have a size ranging between 180,000 to 320,000 DWT. They are very flexible in using terminals and can also operate in ports with depth limitations. VLCCs are used extensively around the North Sea, Mediterranean and West Africa.
ULCC or Ultra Large Crude Carriers are the largest shipping vessels in the world with a size more than 320,000 DWT.  Called Super Tankers, ULCCs are used for long-haul oil crude transportation from Middle East to Europe, Asia, and North America.
X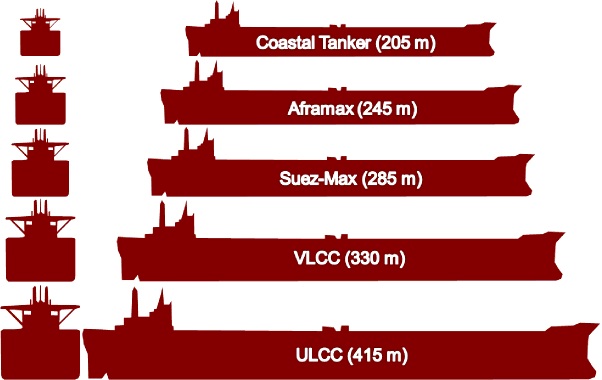 Knock Nevis
https://en.wikipedia.org/wiki/TI-class_supertanker
NORDTULIP
Deadweight:  105511 t   228.6m × 42.04m
terminal  Nakhodka  Dimensions of the processed tankers - length up to 250 meters, draft - up to 12.5 meters.
termināl  Ventspils Dimensions of the processed tankers   length up to 270 meters ,draft - up to 15 meters, 100 000 t – maximum deadweight , 45 m – maximum width
barrel (bbl)
One barrel equals 42 US gallons or 35 UK (imperial) gallons, or approximately 159 liters or 9,702 cubic inches (5.6 cubic feet); 6.29 barrels equal one cubic meter and   (on average) 7.33 barrels weigh one metric ton (1000 kilograms)
One barrel of crude equals 5604 cubic-feet of natural gas, 1.45 barrels of liquefied natural gas (LNG), or about one barrel of gas oil.
 1. SIZE OF THE TANKER
Crude carriers can carry different quantity of crude depending upon their size. They are classified depending upon the Dead Weight Tonnage[DWT] which the difference between the total weight of the ship and its weight when unloaded. Some of them are -
LR1 [Long Range Carrier 1]
Weight Range - 55,000 - 80,000 DWT. Capacity ~ 500, 000 barrels [65 TMT]
Aframax
Weight ranges - 80,000–120,000 DWT. Capacity ~ 750,000 barrels [~100 TMT].
Suezmax
Weight range - 120 - 200 DWT. Capacity ~ 1000,000 barrels [~140 TMT].
VLCC [Very Large Crude Carrier]
Weight Range - 200,000 – 325,000 DWT. Capacity ~ 2000,000 barrels [~250 TMT].
ULCC [Ultra Large Crude Carrier]
Weight Range - 325,000 - 500,000 DWT. Capacity ~ 4000,000 barrels [~550 TMT].
2. MAXIMUM DISCHARGE RATE OF THE TANKER
Different tankers have different capacity depending upon the number of onboard pumps and the discharge pressure. While Suezmax, VLCC, ULCC can discharge at the rate greater than 10,000 kl/hr, LR1 can give a maximum discharge rate of 4000 - 4500 kl/hr.
3. MAXIMUM ALLOWABLE RECEIPT RATE AT DISCHARGE PORT
This is the maximum rate at which the cargo [crude oil] can be received at the discharge port. It depends upon the pipe size, design pressure and the operating pressure. So, if for example the maximum allowable receipt rate is around 8000 kl/hr, LR1 will still take more time for discharging as the maximum discharge rate is below the max allowable receipt rate. On the other hand, due to low allowable receipt rate, VLCCs and ULCCs take more time for discharge.
4. OTHER CONSTRAINTS
Other constraints may include the ullage availability in the tank(s) nominated for the crude oil receipt. Unavailability of sufficient ullage will result in rate to go below the allowable rate resulting in more time to unload.
5. STRIPPING
When the crude in tanker compartment reduces to around 8000–10,000 kl, the suction pressure drops and the flow rate decreases. The crude oil has to be pushed from the compartments to the pump suction.
This period of reduced flow rate is stripping and usually takes around 2 - 3 hours more than the usual time required to pump the above quantity.
email
rudolfsindelar@aim.com
skype rudolsindelar.aim.com
---
Permissions in this forum:
You
cannot
reply to topics in this forum