EURO 4
Name EU Directive CEN Standard Implementation Date Sulfur Limit (ppm)
n/a – EN 590:1993 (d)
EN 228:1993 (g) October 1994 2000
Euro 2 93/12/EEC – October 1996 500 (diesel)
Euro 3 93/12/EEC EN 590:1999 (d)
EN 228:1999 (g) January 2000 350 (diesel);
150 (gasoline)
Euro 4 98/70/EC EN 590:2004 (d)
EN 228:2004 (g) January 2005                 ppm  50*
Directive 98/70/EC of the European Parliament and of the Council of 13 October 1998 relating to the quality of petrol and diesel fuels and amending Council Directive 93/12/EEC
Euro 5 2003/17/EC EN 590:2009 January 2009 10, 10**
Note:* 10ppm fuel must be available
** nonroad fuels limit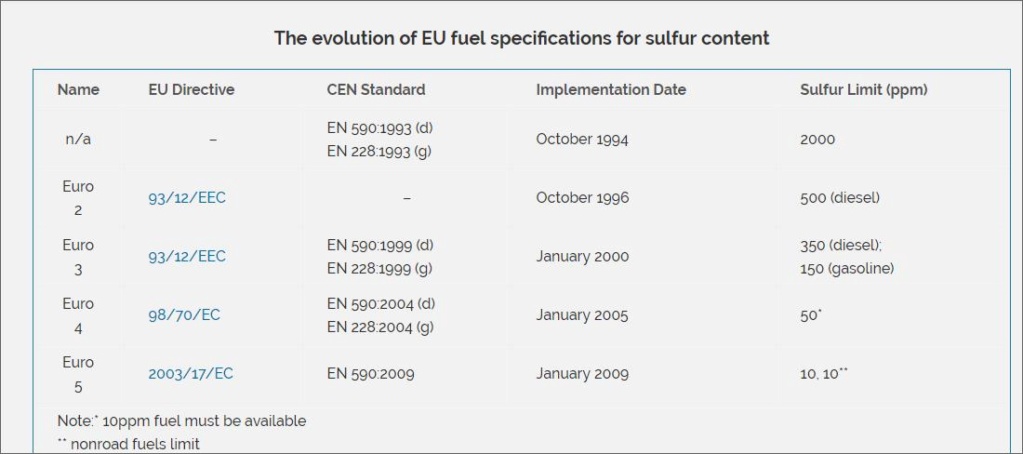 https://www.transportpolicy.net/standard/eu-fuels-diesel-and-gasoline/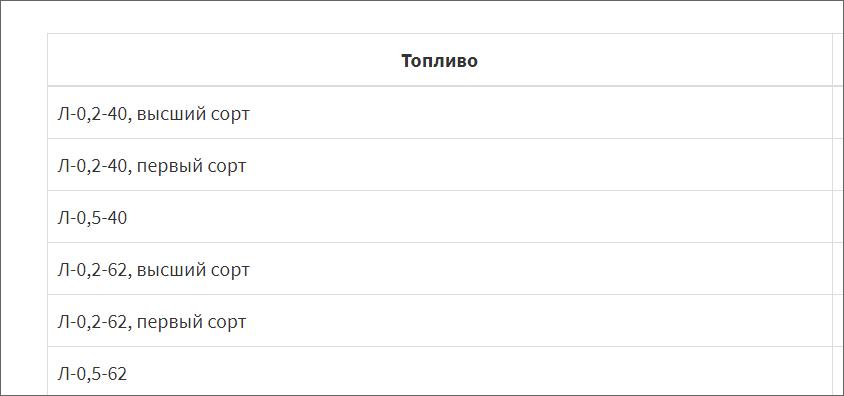 https://www.rapidtables.com/convert/number/PPM_to_Percent.html
ppm  https://vk.com/doc135330139_469843079?hash=a720f6d80bafec897f&dl=2157756974af5c5bfc
Главное отличие между дизельным топливом Л-0,2-62, выпускаемого ... дизельное ЕВРО, сорт С, вид II, (экологический стандарт ЕВРО-4)
Главное отличие между дизельным топливом Л-0,2-62, выпускаемого по ГОСТ 305-82, и дизельным топливом ЕВРО заключается в допустимом содержании серы и сернистых соединений. Чем меньше серы, тем экологичнее топливо, тем меньше содержится ядовитых сернистых соединений в выхлопных газах. Повышенное содержание серы негативно сказывается и на ресурсе двигателя. Дело в том, что сернистые соединения растворяются в водяных парах внутри камеры сгорания, образуя серную кислоту. Эта кислота, оседая на стенках рабочих цилиндров двигателя, попадает в моторное масло, разжижает его, снижает смазывающие свойства, что приводит к необходимости более частой замены моторного масла.
В настоящее время на Московском рынке присутствуют следующие наименования дизельного топлива:
топливо дизельное ЕВРО, сорт С, вид III, (экологический стандарт ЕВРО-5) производства Московского НПЗ по ГОСТ Р 52368-2005 с содержанием серы до 10 ррМ (0,001%);
топливо дизельное ЕВРО, сорт С, вид II, (экологический стандарт ЕВРО-4) производства Новокуйбышевского НПЗ по ГОСТ Р 52368-2005 с содержанием серы до 50ррМ (0,005%).
Эти топлива вполне доступны и предлагаются к поставке нашим клиентам.Решением московского правительства к обороту с 2014 года допускается к обороту в границах города автомобильное топливо экологического стандарта не ниже ЕВРО-3 (вид II).
Очистка топлива от серы производится в заводских условиях на установках гидроочистки, что приводит к существенным дополнительным затратам. В этой связи, чем ниже содержание серы, тем больше затрат и, соответственно, тем выше себестоимость и цена этого топлива.
Russia / Former Soviet Union
As of 2002, much of the former Soviet Union still applies limits on sulfur in diesel fuel substantially higher than in Western Europe. Maximum levels of 2,000 and 5,000 ppm are applied for different uses. In Russia, lower maximum levels of 350 ppm and 500 ppm sulfur in automotive fuel are enforced in certain areas, particularly in regions. Euro IV and Euro V fuel with a concentration of 50 ppm or less is available at certain fueling stations, at least in part to comply with emissions control equipment on foreign-manufactured cars and trucks, number of which is increased every year, especially in big cities, such as Moscow and Saint Petersburg. According to the current technical regulation, selling a fuel with sulfur content >50 ppm is allowed until 31 December 2011. Euro IV diesel may in particular be available at fueling stations selling to long-distance truck fleets servicing import and export flows between Russia and the EU
European Union
In the European Union, the "Euro IV" standard has applied since 2005, which specifies a maximum of 50 ppm of sulfur in diesel fuel for most highway vehicles; ultra-low-sulfur diesel with a maximum of 10 ppm of sulfur must "be available" from 2005 and was widely available as of 2008. A final target (to be confirmed by the European Commission) of 2009 for the final reduction of sulfur to 10 ppm, which will be considered the entry into force of the Euro V fuel standard. In 2009, diesel fuel for most non-highway applications is also expected to conform to the Euro V standard for fuel. Various exceptions exist for certain uses and applications, most of which are being phased out over a period of several years. In particular, the so-called EU accession countries (primarily in Eastern Europe), have been granted certain temporary exemptions to allow for transition.
Certain EU countries may apply higher standards or require faster transition. For example, Germany implemented a tax incentive of per litre of "sulphur free" fuel (both gasoline and diesel) containing less than 10 ppm beginning in January 2003 and average sulphur content was estimated in 2006 to be 3-5 ppm. Similar measures have been enacted in most of the Nordic countries, Benelux, Ireland and the United Kingdom to encourage early adoption of the 50 ppm and 10 ppm fuel standards.
Central and Eastern Europe ("Accession Countries")
As of 2008, most accession countries are expected to have made the transition to diesel fuel with 10 ppm sulfur or less. Slightly different times for transition have applied to each of the countries, but most have been required to reduce the maximum sulfur content to less than 50 ppm since 2005. Certain exemptions are expected for certain industries and applications, which will also be phased out over time. Compared to other EU countries, ULSD may be less widely available.
Asia
China
(Mainland) China has limited sulfur in diesel fuel to 150 ppm, equivalent to the Euro III standard with limits of 10 ppm applied for certain cities such as Beijing.
From 2014 to 2017, China will limit sulfur in diesel fuel to 50ppm. After 2017, the sulfur content in diesel fuel will be limited to 10ppm.
India
Delhi first introduced 50 ppm sulfur diesel on April 1, 2010 as a step aimed at curbing vehicular pollution in the capital. This was simultaneously done in 12 other cities at the time. The sulphur content in the diesel being used previously was 350 ppm.
There are two types of diesel available in India from year 2010. Bharat Stage IV (equivalent to Euro IV) specification having Sulfur level below 50 ppm is available in Delhi and NCR, Mumabi, Kolakata, Chennai, Bengaluru, Pune, Kanpur, Agra, Surat, Hyderabad, Ahemadabad, Sholapur and Lucknow. Fuel with less than 350 ppm Sulfur is available in the rest of India.
Hong Kong
In July 2000, Hong Kong became the first city in Asia to introduce ULSD, In addition, new petrol private cars were asked to meet Euro III standards from 2001.
Since the introduction of the law, all fuel station started supplying ULSD since August 2000.
Sulfur content of regular diesel fuel was lowered from 500 ppm to 350 ppm on 1 January 2001.
---
Permissions in this forum:
You
cannot
reply to topics in this forum