Dear company
buyer for Gold Bullions   500 kg x week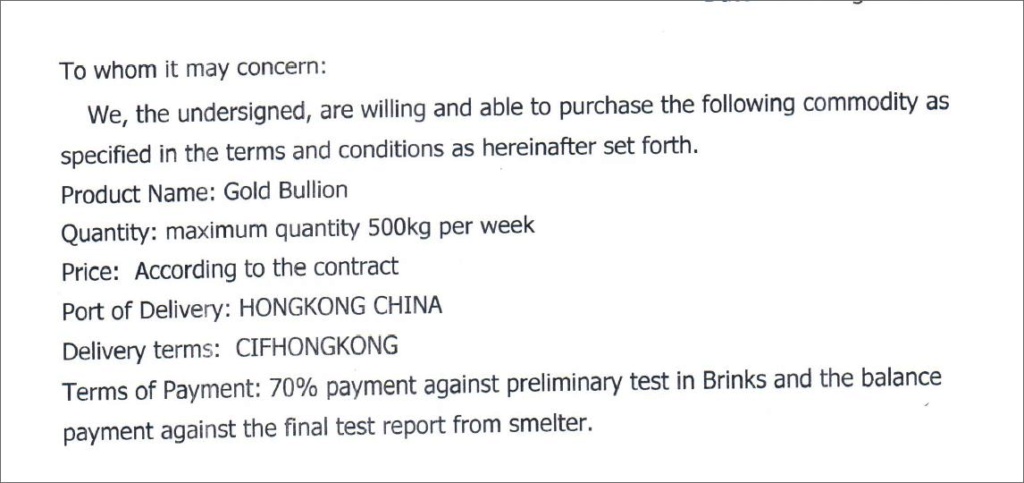 We are HongKong subsidiary company of a famous Chinese Group which has top status and reputation in Chinese and the world's Gold -Industry.
We have intention to perennialy purchase the gold bullion or bars from your supplier.The quantity and the price as specified in the terms and conditions as stated below and that funding is available including any important permits needed to fulfill this purchase.
COMMODITY: gold bullion or bars;
QUANTITY: trial order at lease 100KG
later between 100KG and 500KG per lot; per week if will be possible
Purity: 94% or better;(22K)
Price: Buyers and sellers discussion and decision, depending on the purity
Delivery: METALOR Refinery in Hong Kong
METALOR Refinery's full name is METALOR TECHNOLOGIES (HONG KONG) LIMITED ,which is industry-recognized factory by the world;
INSPECTION: melt assay by Refinery;
PAYMENT: the payment is divided into two parts:
1)the Payment in Advance: 70% preliminary test Brinks
2)final payment: the rest
The Refinery will issue the assay report,usually on the second or third day, and the buyer will pay the rest 30% according to the assay result on the reporting day.
Transference of property rights: after the buyer pay off the
payment,the Refinery should transfer the property rights of gold from seller to buyer.
Notice:
(1)the seller must be a company, not a person.
(2)the gold must be Clean, Clear, Non-Criminal, Origin and free from any Liens and Encumbrances.
(3)Sell should submit the files to buyers , including:
?Certificate(s) of Origin.
?Certificate of Ownership.
?Commercial Invoice. (4 originals).
?Customs declaration documents.
?Export Permit issued by the Government of Exportation Country.
?Resource confirmation issued by the Government of Exportation Country.
hangouts  
aaacapslock@gmail.com
---
Permissions in this forum:
You
cannot
reply to topics in this forum