试单交易程序:
PROCEDURE CIF :
1. Buyer issues an official ICPO inserting seller's terms and procedures.
2. Seller issues SPA and Commercial Invoice for the product quantity on board, buyer endorses and sends back .
3. Seller issues the POP documents as listed below:
a. Declaration of product ownership
b. Product quality passport (Analysis test Report) By Russian standard gost R
c. Certificate of Origin
d. Bill of Lading
e. Ullage Report
f. Vessel Notice
g. Cargo Manifest
h. Vessel Q88
I. Proforma invoice signed by the supplier
j.Vessel ETA
k.Shipping agency information.
l.NOR
4. The buyer receives all the shipping information provided by the seller, and the shipping agent interacts with the cargo agent to verify the cargo right;The shipping agent will transmit the cargo manifest information to the relevant platform of the local customs 24 hours before the tanker arrives at the port;After the buyer's forwarder completes the customs declaration application successfully.
5. Buyer makes 5%-part payment of the total product value within 48 hours via T/T MT103 to
seller's nominated bank as transaction guarantee.
6. Upon receipt confirmation of the above payment, the seller issues Approval to export certificate,Export license certificate, Authorization to board the vessel (ATB), and Dip test authorization(DTA) and all shipping documents will be re-issued in the buyer's name and the vessel will be sent to the buyer's discharge port.
7. Upon the arrival of the vessel at the buyer's discharge Port, the buyer pays the remaining total product value after successful CIQ/SGS or equivalent inspection via T/T-MT103 and title of the product ownership transferred to the buyer.
8. Seller/Buyer pays commission to Agencies, Broker and intermediary as per signed NCNDA/
IMFPA.
1、Seller issues Draft Contract for buyer's open for amendment and sign, and send back to seller within 3 working days.卖方出具合同草案供买方修改和签字,并在3个工作日内寄回卖方
2、The seller will send all copies of the shipping POP data by email to the buyer's email address XXXXXXXX
卖方通过邮件方式将所有装船POP资料拷贝件发送到买方的电子邮箱(XXXXXXXXXXXX :
a)-Clean-On-Board Ocean Bill Of Lading 清洁提单;
b)-Certificate Of Origin原产地证明书;
c)- The ship situation reportQ88 船情报告Q88;
d)- Export License 出口许可证 ;
e)- Cargo Manifest 货物舱单 ;
f)-  proforma invoice 形式发票 ;
g)- Product Passport (Quantity & Quality Dip Test Analysis Report)
h)-Sales Authorization Letter销售授权书
i)-Sellers shipping agency information卖方船务代理公司信息
j)-MATERIAL SAFETY DATA SHEET -MSDS产品安全技术说明书
3、The seller's shipping agent shall first communicate with the cargo agent of buyer. The shipping agent of the seller shall input the cargo manifest information to the customs of the port of destination, and the cargo agent of the buyer shall apply for customs clearance and report. After successful customs clearance application,The seller's agent shall handle the
procedures for discharging tanker vessels at port.卖方船务代理首先与买方的货物代理沟通对接;卖方船务代理向目的地港口海关输入货物舱单信息,买方货物代理开始办理海关清关申请报备;海关清关申请成功后,由卖方船代办理船舶进港卸货作业手续。
4、After the buyer receives the notice of arrival and discharge of the vessel, the buyer shall pay 10% purchase deposit to the bank account designated by the seller to arrange arrival and discharge of the vessel。买方收到船舶进港卸货通知书后,买方支付货值10%的购货保证金到卖方指定的银行账户。卖方安排进港卸货。
5、After the carrying vessel arrives at the port named by the buyer and the tanker is berthing, the buyer's cargo agent shall immediately arrange the customs inspection personnel to take samples for CIQ inspection. After the goods of the vessel pass the CIQ inspection, Buyer shall make full payment to seller's designated account through MT103/TT bank in accordance with d/P terms.载货船舶到达买方指定港后,油轮靠泊后,买方货物代理立即安排海关商检人员取样做CIQ检验。该船货物完成CIQ检验合格后,买方依据D/P条件通过银行MT103/TT方式将全部货款支付到卖方指定的账户。
6、The seller will send the original POP document and the certificate of transfer of title to the buyer's bank by bank express. The bank will pay of the payment by MT103/TT. The bank will send the full set of documents of title to the buyer for customs clearance and tax payment卖方通过银行快递将正本原始的POP文件和货权转移证明书速递给买方银行。银行以MT103/TT方式支付货款。银行将全套货权文件转交给买方报关完税。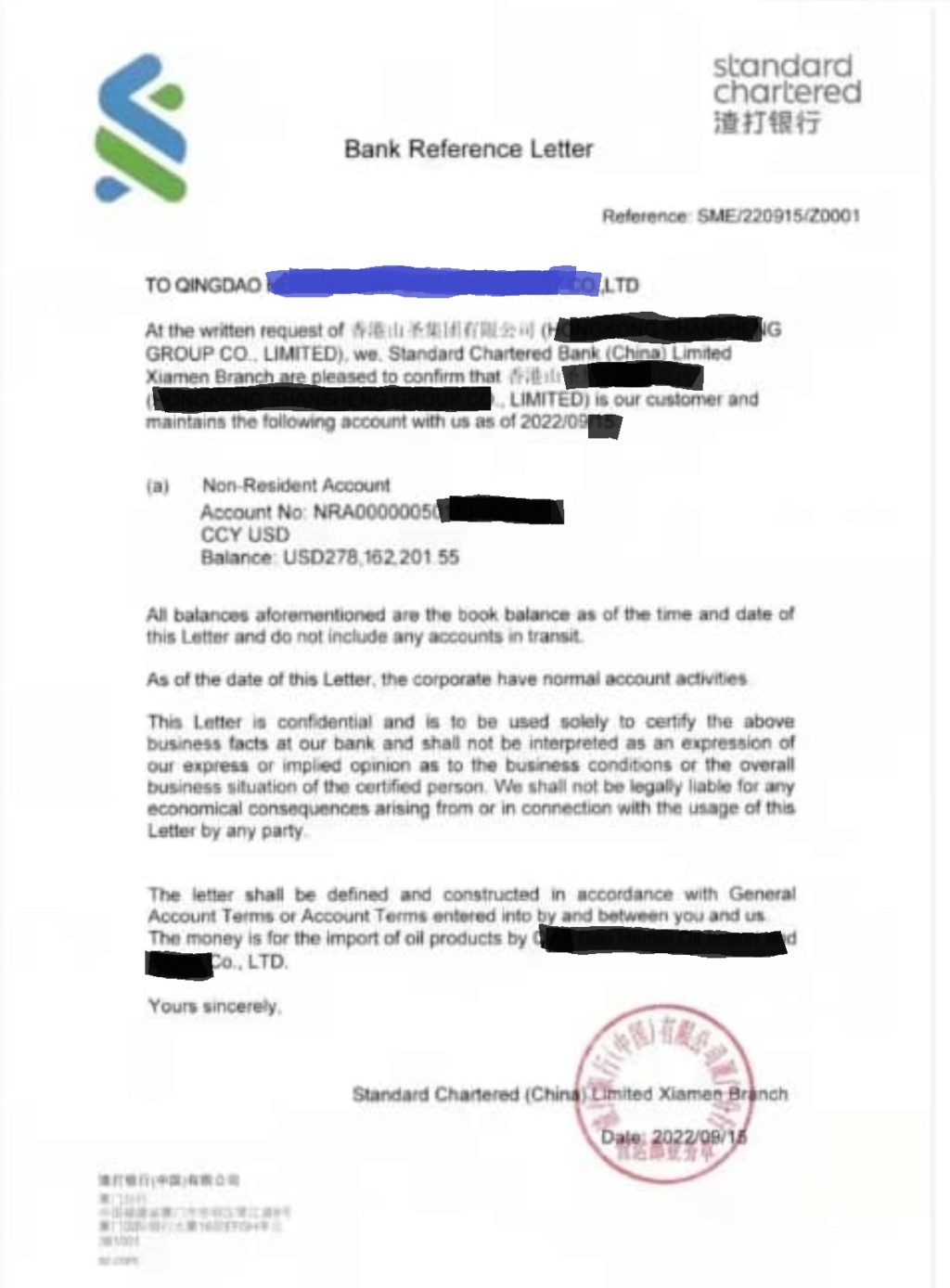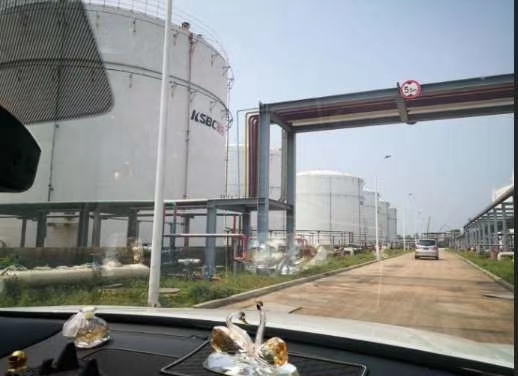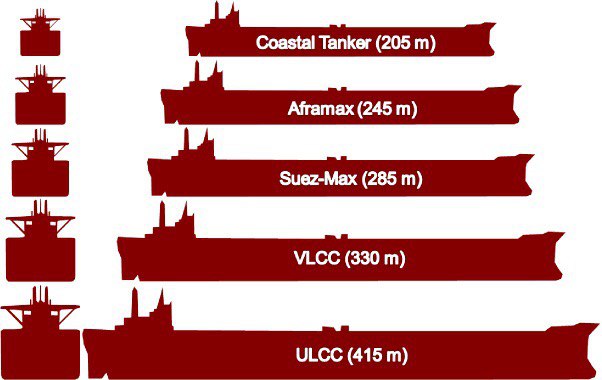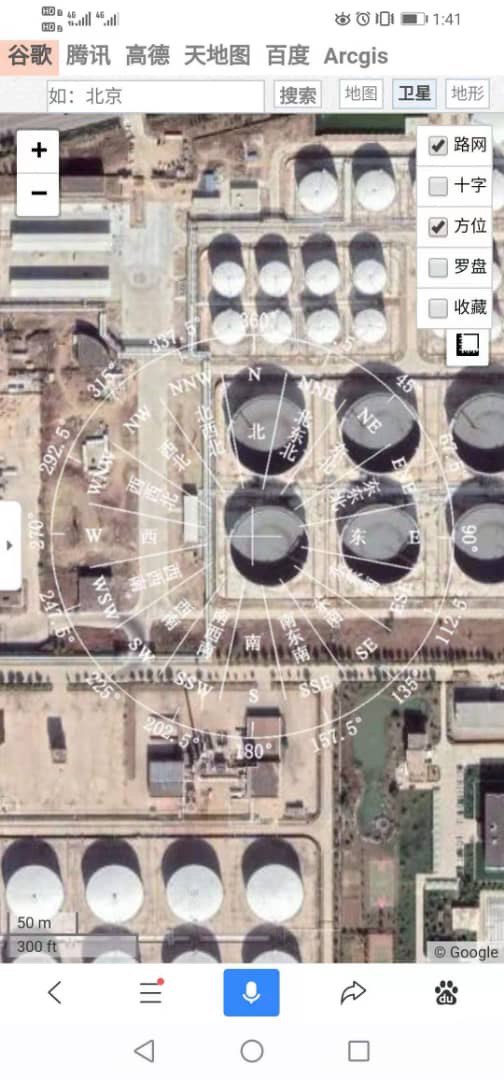 https://www.google.com/maps/place/Red+Sea/@-1.6758117,-3.8919941,2z/data=!4m6!3m5!1s0x15b91b7a37f530e5:0xbab428a1529071c7!8m2!3d20.280232!4d38.512573!16zL20vMDZqZmQ
---
Permissions in this forum:
You
cannot
reply to topics in this forum