Offer   ++ ZINC Dust, with ZINC grade 40%. 180 mesh upto 2mm
1
SALES AGREEMENT
Between
XXXXXXXXXXXXXXX
("the Seller")
And
("the Buyer")
Contract Number: D-4-BD-ZN-01- 8 Pages
Dated: 28th Oct, 2019
XXXXXXXXXXXX  ("Seller"), agrees to sell
ZINC DUST at the following terms and conditions:
and
xxxxxxxxxxxxxxxxxxxxxxxxxxxxxxxxxxxxxxxxxxxxxxxxx ("Buyer"),
agrees to buy ZINC Dust at the following terms and conditions:
2
1. COMMODITY AND QUALITY
a. ZINC Dust, with ZINC grade 40%. 180 mesh upto 2mm
b. Buyer has the right to reject the cargo if the ZINC content is less than 38%.
Zn: 40%
Mg: 0.32%
Si: 0.14%
Fe: 0.72-3%
Cu: 0.06%
Ni: 0.05%
S: 0.14%
Size: 80-200mesh
2. QUANTITY
a. ZINC CONCENTRATE, 1000 MT (+/-10%)
3. DURATION:
This contract is valid for one month then review according to market
4. DELIVERY
CIF Turkey – Main Sea ports (Mersin Principal)
5. SHIPMENT
5.1. Packing: Bulk loose in container.
5.2. Loading port: Chennai port,India
5.3. Discharge port:
5.4. Shipment date: Estimated shipped on board date shall be within 20 days after
receipt of the DLC.
6. PRICE
6.1. LME ×  70 % × Zinc% = ...... for first month shipment,
6.1.2. The ZINC dust unit price will increased/decreased from Zn-40%
6.2. For subsequent shipments, the unit prices will remain unchanged if the LME
price changes no more than 3%; If the LME price changes more than 3%, the unit
prices will be adjusted in line with the LME. It will be confirmed by both sides before
opening the DLC for next month shipment.
3
7. PAYMENT
All payment shall be made in US Dollar.
10 % down payment upon signed the contract,
balance 90 % Transferable, Divisible Documentary Letter of Credit (DLC)
7.2 Provisional payment
After signed contract, the buyer will send T/T 10 % and open a Documentary Letter of
Credit to the seller within 10 working days.
90% provisional invoice value shall be made in USD through the Letter of Credit (L/C)
against presentation of following documents:
a) Original full set of three (3) originals and three (3) non-negotiable copies marked
"Freight Collect" "Clean on board" Ocean Bills of Lading made out to order and blank
endorsed, Notifying the applicant.
b) Commercial Provisional Invoice issued by Seller based on weight and assay result
according to SGS inspection reports as per Clause 6.2.
c) Packing List issued by Seller indicating B/L Number/ B/L date/ cargo weight/
container Number/ seal Number.
d) Original Quality and Quantity Certificates issued by SGS (to be appointed and paid
by the Buyer) on inspection at Loading Port.
E) Third party documents are allowed.
7.4 Buyer's Letter of Credit Agent
Seller, upon written request from Buyer, at its sole discretion may accept that the
Letter of Credit as provided for in this clause 7. PAYMENT may be opened by buyer.
(the "Letter of Credit Agent").
8. TITLE AND RISK
Title shall pass from Seller to Buyer upon Seller's receipt of Buyer's provisional
payment and 10 % by TT and 90% by DLC of provisional payment.
Risk shall pass from Seller to Buyer when the cargo passes over the rail of the
performing vessel at the port of loading.
9. INSURANCE
Insurance shall be procured by Buyer.
4
10. WEIGHING, SAMPLING AND ASSAYING
10.1 WSMD at loading port
The operations of Weighing, Sampling and Assaying, at loading port, shall be carried
out at the designated warehouse / Place in Chennai port by an independent
surveyor such as SGS appointed by seller, in accordance with international practice
and standards.
Seller has the right to nominate representatives be present during operation
procedure.
The results shall be used for the Seller's provisional payment invoice under L/C
documents presentation.
10.2 WSMD at discharging port
The operations of Weighing, Sampling and Assaying, at discharging port, shall be
carried out at the receiving destination port.
Such operations cost shall be on Buyer's account.
10.3 Sampling
Sample lot shall be for the whole cargo, or otherwise by mutual agreement.
Each lot shall form a separate and complete delivery for the purposes of final
settlement.
Sample portions shall be made from each such sample lot and distributed as follows:
- 2 sets of sealed samples for the Seller;
- 2 sets of sealed samples for the Buyer;
- 2 sets of sealed samples to be reserved by SGS.
11. GOVERNING LAW AND DISPUTES
Will be Indian Law and any disputes and misunderstandings in terms of terms and
conditions contained in the booking and / or contract records shall be referred to the
arbitration at India. Internatıonal Law Courts (Swiss)
12. TAXES, TARIFFS, DUTIES AND OTHER FEES
All taxes and duties and other fees before vessel's arrival at destination shall be for
the Seller's account. All taxes and duties and other fees after vessel's arrival at
destination shall be for the Buyer's account.
5
13. PARTIAL AND TOTAL LOSS:
Partial Loss
In the event of partial loss of a cargo due to insured perils, final settlement shall be
made as soon as all the necessary details are available based on final weights,
moisture and assays determined as per clause "Weighing, Sampling and Analysis"
and the price determined in accordance with Clause Final Settlement Price.
Total Loss
In the event of total loss of or damage to cargo after risk of loss of or damage to
cargo is transferred from Seller to Buyer, such lost or damaged cargo shall be deemed
to have been delivered for the purpose of calculating the total quantity delivered
pursuant to this agreement. The amount payable will be calculated based on final
weights, moisture and assays determined as per clause "Weighing, Sampling and
Analysis" and the price determined in accordance with Clause Final Settlement Price.
14. FORCE MAJEURE:
In the event of any war, revolution, act of God, flood, storm, earthquake, fire,
explosion, strike, lockout, stoppage of work, combination of workmen, interference
of Trade Unions, act of Government or Government appointed agents, obstruction or
blockage of port or wharf, shortages or unavailability of electricity and other inputs
and serious mechanical breakdowns of Seller, copper concentrate supplier's Force
Majeure, lack of truck and/or railway or seaborne freight facilities or delays en route
whether due to mechanical fault or to action of the elements, or, in the event of any
other disabling causes whatsoever beyond the reasonable control of Seller or Buyer
(any such cause being hereafter called « Force Majeure ») preventing or hindering
Seller or Buyer from performing its obligations in the Agreement, or from smelting,
the party affected by a Force Majeure may suspend delivery or acceptance of
tonnage hereunder by giving prompt written notice to the other party of the details
of such cause.
Force Majeure shall not apply to material in transit, and/or to material for which
ocean space has been reserved or fixed and/or material which has already been
priced.
The party declaring Force Majeure shall take all reasonable steps to resume with the
least possible delay its performance hereunder, provided that nothing herein shall
require a party to settle any strike, lockout or stoppage of work on terms which in its
option are not satisfactory. Any reduction in tonnage in a partial Force Majeure shall
be made on a pro-rata basis by the party declaring Force Majeure, as between all of
such party's contractual customers.
Each party shall remain obligated in respect of the tonnage which would have been
6
delivered or accepted during the period of Force Majeure if notice of Force Majeure
had not been given.
However, should the duration of Force Majeure exceed sixty (60) days, the party who
did not declare Force Majeure shall be entitled to cancel the tonnage, by notice in
writing to the other party
15. INCOTERMS
Unless otherwise specified herein INCOTERMS 2010 and/or any amendments or replacement
thereof shall apply.
16. ASSIGNMENT
Both Seller and Buyer shall have the right to assign all or any part of its rights or
obligations under this Agreement to their subsidiary corporation or parent company
upon a prior written confirmation of the other party.
17. AMENDMENT
No amendmentor variation of this Agreement shall be permitted nor relied by either
party unlesssuch amendments or variation is expressed in formal writing (email is
invalid) and signed by each of the Parties.
18. TERMINATION:
In the event of a material breach of the Agreement by either Party, the Party so affect
ed shall have the right, but not obligation to forthwith terminate this contract. The
termination will become effective thirty (30) days after receipt of written notice from
The non-defaulting Party to the defaulting Party unless during the relevant period of
thirty (30) days the defaulting Party has performed its obligations in respect of which
it is in default or (if the default is not capable of remedy within thirty (30) days) is
diligently proceeding to perform the obligation by taking active, effective and
continuing steps to do so and the obligation is in fact performed within ninety (90)
days after receipt of the relevant notice.
The Parties agree that the Party who is not in default shall, in addition or as an altern
ative to its right of termination or any other right or remedy which may be available t
o it, have the right to seek damages from the defaulting Party.
Notwithstanding anything to the contrary in this Agreement, neither Party shall be
7
entitled to claim any indirect, special or consequential damages (including loss of
profits) arising out of or in connection with a breach or repudiation of this Agreemen
t by the other Party.
19. WAIVER
No waiver of any of the terms and conditions of this contract shall be binding or
effectual for any purpose, unless expressed in writing and signed by the party giving
same, and any such waiver shall be effective only in the specific instance and for the
purpose given. No failure or delay on that part of any party hereto in exercising any
right, power or privilege hereunder shall operate as a waiver thereof.
20. CONFIDENTIALITY
Each party shall use its best efforts to assure that the provisions of this Agreement
and all information disclosed to it concerning the other party and its assets and
businesses and not otherwise publicly available shall be kept confidential and shall,
unless otherwise required by law, not be disclosed without the consent of other
party to anyone other than (a) to the shareholders and their affiliates, directors,
officers, employees, accountants, consultants, counsel and representatives of each
party, the Trustee and the Senior Lenders or prospective lenders, (b) to any proposed
transferee, (c) in connection with legal proceeding or required filings with
Government agencies, courts, stock exchanges or other regulatory agencies,
excluding specific references to the commercial terms of this Agreement. If such
information is so disclosed to any such person or entity, each party agrees to use its
best efforts to cause such person or entity to keep such information confidential.
21. NOTICES
Any notice required to be given shall be in writing and in the English language and
delivered by Email or by fax, and shall be effected on confirmation by the recipient of
receipt and shall be addressed to the party concerned as follows:
To Seller:  XXXXXXXXXXXXx
Register No:  
To Buyer:
IN WITNESS WHEREOF, the parties here to have caused their duly authorised
representatives to execute the Agreement of Sale and Conditions of Sale. Notwithstanding
the date of execution of this agreement the effective date shall be the signing date..
ACCEPTED BY:
SELLER:
XXXXXXXXXXXXXXXXXXXXXXXX
___________________________
BUYER: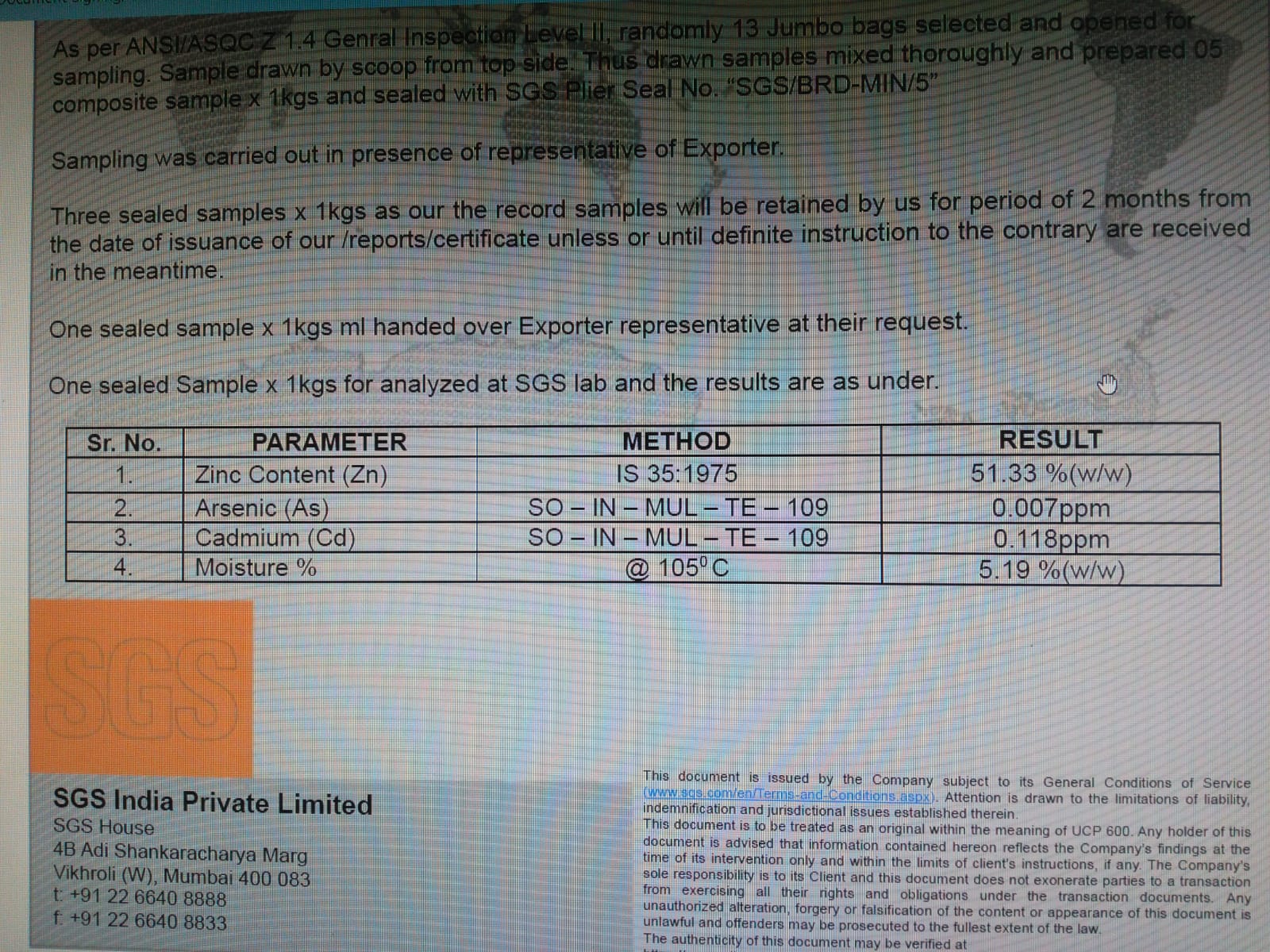 email
aaacapslock@gmail.com
Skype II mobile live:rudolfsindelar ,
Kakao Talk rudolfsindelar , Wire rudolfsindelar
Whats App iMessage +420 773 872 167
https://wa.me/420773872167/?text=Zinc_001_
FAX + 420 498 606 768
Fingerprint Rudolf Sindelar ++ Crypho ++
---
Permissions in this forum:
You
cannot
reply to topics in this forum