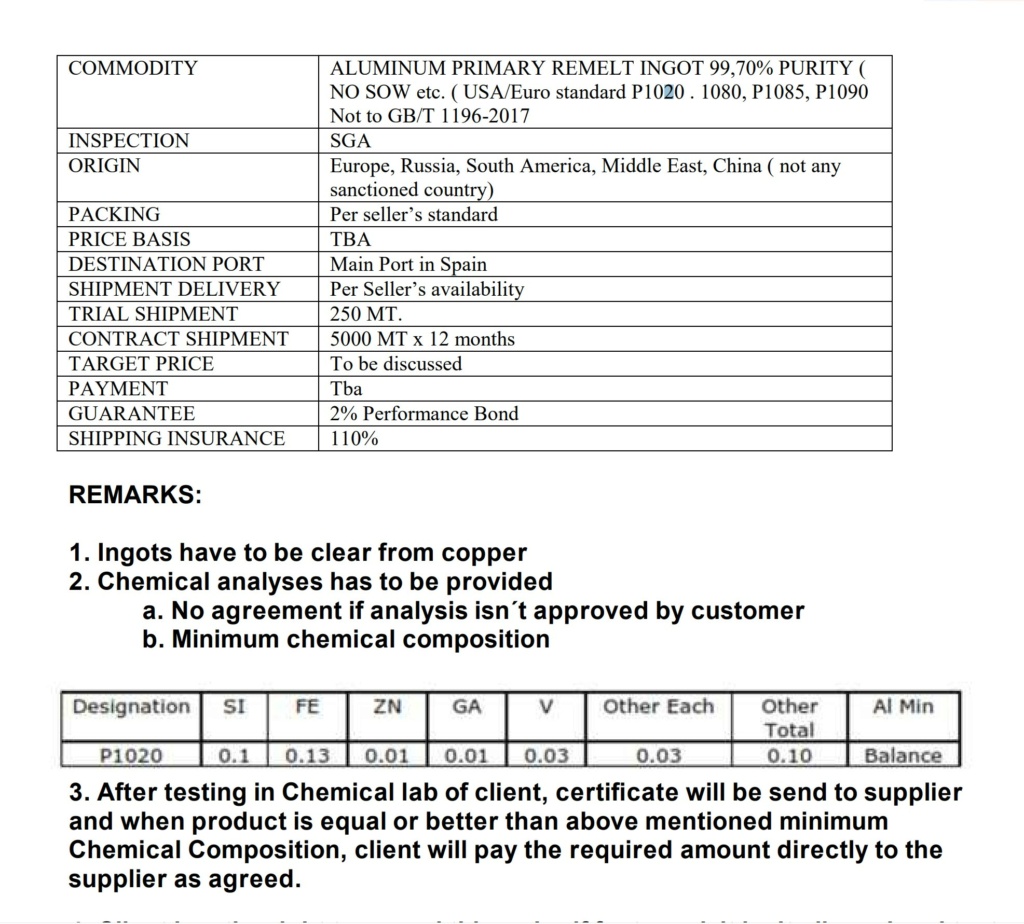 COMMODITY ALUMINUM PRIMARY REMELT INGOT 99,70% PURITY (
NO SOW etc. ( USA/Euro standard P1020 . 1080, P1085, P1090
Not to GB/T 1196-2017
INSPECTION SGA
ORIGIN Europe, Russia, South America, Middle East, China ( not any
sanctioned country)
PACKING Per seller's standard
PRICE BASIS TBA
DESTINATION PORT Main Port in Spain
SHIPMENT DELIVERY Per Seller's availability
TRIAL SHIPMENT 250 MT.
CONTRACT SHIPMENT 5000 MT x 12 months
TARGET PRICE To be discussed
PAYMENT Tba
GUARANTEE 2% Performance Bond
SHIPPING INSURANCE 110%
REMARKS:
1. Ingots have to be clear from copper
2. Chemical analyses has to be provided
a. No agreement if analysis isn´t approved by customer
b. Minimum chemical composition
3. After testing in Chemical lab of client, certificate will be send to supplier
and when product is equal or better than above mentioned minimum
Chemical Composition, client will pay the required amount directly to the
supplier as agreed.
4. Client has the right to cancel this order if factory visit isn't allowed and test
hasn't been approved.
Buyer   +++ COMMODITY ALUMINUM PRIMARY REMELT INGOT 99,70% PURITY (
NO SOW etc. ( USA/Euro standard P1020 . 1080, P1085, P1090
Not to GB/T 1196-2017
https://petroleumproduct.forumczech.com/t598-nuyer-aluminum-primary-remelt-ingot#601
Offer  seller  
https://vk.com/doc135330139_621476570?hash=fc33078801ffd3211d&dl=6a2e6960dea44f9773
---
Permissions in this forum:
You
cannot
reply to topics in this forum